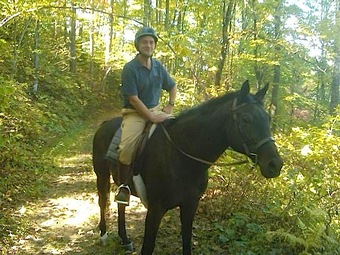 ---

Mountain Animal Hospital is pleased to announce that Scott Lewis, a large-animal associate with the practice since June 2010, is the new owner of Mountain Equine Veterinary Service. A graduate of the University of Georgia College of Veterinary Medicine, Dr. Lewis completed an internal-medicine and field internship at Tufts University/Massachusetts Equine Clinic and worked with a large sporthorse population in Southern Pines, NC, before making the move to Western North Carolina in 2010.

As a former event rider, Dr. Lewis has a great interest in lameness and plans to expand Mountain Equine's diagnostic capabilities with a new digital radiography unit and advanced digital ultrasound capable of producing high-quality tendon and ligament images.

Dr. Lewis's background in internal medicine also provides the knowledge and experience needed to manage tough medicine cases in the field. Whether your horse has colic, respiratory disease, ophthalmic trouble or just poor performance or ill thrift, Dr. Lewis will devise an effective treatment plan to get him back on his feet.

Mountain Equine has worked hard to give timely, thorough and compassionate care to the horses of Asheville and Western North Carolina, and we are pleased that Dr. Lewis will continue to provide high-quality veterinary care for your horses into the future.